2018 Fixtures Revealed: Sligo Away In Opener
---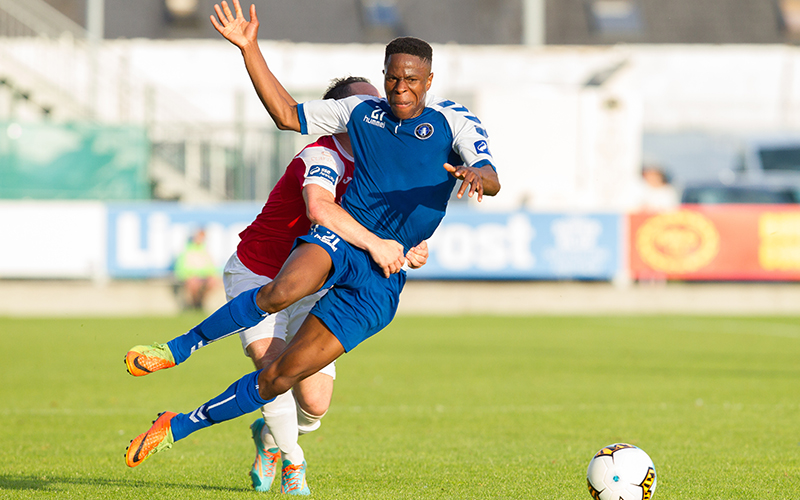 Limerick will open their 2018 SSE Airtricity League Premier Division campaign with a trip to Sligo Rovers, at The Showgrounds on Saturday 17 February, kick-off 7.45pm.
The Shannonsiders will have their first game on home soil seven days later when Bohemians are the visitors to the Markets Field on Saturday 24 February, kick-off 6.30pm.
Other notable home fixtures for the Blues early in the season are Shamrock Rovers on Saturday 3 March and Cork City in a Munster Derby on Saint Patrick's Day. We conclude with a trip to Waterford on Friday 26 October.
Download the full Premier Division fixture list here.
You can also download Limerick FC's full fixture list and our home fixtures only, plus the Irish Daily Mail FAI Cup and EA Sports Cup dates here.
| | | | | |
| --- | --- | --- | --- | --- |
| Saturday 17 February, 7.45pm | Premier Division | Sligo Rovers | v | Limerick |
| Saturday 24 February, 6.30pm | Premier Division | Limerick | v | Bohemians |
| Tuesday 27 February, 7.45pm | Premier Division | Dundalk | v | Limerick |
| Saturday 3 March, 6.30pm | Premier Division | Limerick | v | Shamrock Rovers |
| Friday 9 March, 7.45pm | Premier Division | Limerick | v | Bray Wanderers |
| Monday 12 March, 7.45pm | Premier Division | Derry City | v | Limerick |
| Saturday 17 March, 6.30pm | Premier Division | Limerick | v | Cork City |
| Friday 23 March, 7.45pm | Premier Division | St Patrick's Ath. | v | Limerick |
| Saturday 31 March, 6.30pm | Premier Division | Limerick | v | Waterford |
| Friday 6 April, 7.45pm | Premier Division | Bohemians | v | Limerick |
| Saturday 14 April, 6.30pm | Premier Division | Limerick | v | Sligo Rovers |
| Tuesday 17 April, 7.45pm | Premier Division | Limerick | v | Dundalk |
| Friday 20 April, 8pm | Premier Division | Shamrock Rovers | v | Limerick |
| Friday 27 April, 7.45pm | Premier Division | Bray Wanderers | v | Limerick |
| Monday 30 April, 7.45pm | Premier Division | Limerick | v | Derry City |
| Friday 4 May, 7.45pm | Premier Division | Cork City | v | Limerick |
| Saturday 12 May, 6.30pm | Premier Division | Limerick | v | St Patrick's Ath. |
| Friday 18 May, 7.45pm | Premier Division | Waterford | v | Limerick |
| Monday 21 May, TBC | Premier Division | Limerick | v | Cork City |
| Friday 25 May, 7.45pm | Premier Division | Sligo Rovers | v | Limerick |
| Saturday 2 June, 6.30pm | Premier Division | Limerick | v | Bohemians |
| Friday 8 June, 7.45pm | Premier Division | Dundalk | v | Limerick |
| Friday 15 June, 7.45pm | Premier Division | Limerick | v | Shamrock Rovers |
| Saturday 30 June, 6.30pm | Premier Division | Limerick | v | Bray Wanderers |
| Friday 6 July, 7.45pm | Premier Division | Derry City | v | Limerick |
| Friday 20 July, 7.45pm | Premier Division | St Patrick's Ath. | v | Limerick |
| Saturday 28 July, 6.30pm | Premier Division | Limerick | v | Waterford |
| Friday 3 August, 7.45pm | Premier Division | Bohemians | v | Limerick |
| Saturday 18 August, 6.30pm | Premier Division | Limerick | v | Sligo Rovers |
| Saturday 1 September, 6.30pm | Premier Division | Limerick | v | Dundalk |
| Friday 14 September, 8pm | Premier Division | Shamrock Rovers | v | Limerick |
| Friday 21 September, 7.45pm | Premier Division | Bray Wanderers | v | Limerick |
| Saturday 6 October, 6.30pm | Premier Division | Limerick | v | Derry City |
| Friday 12 October, 7.45pm | Premier Division | Cork City | v | Limerick |
| Friday 19 October, TBC | Premier Division | Limerick | v | St Patrick's Ath. |
| Friday 26 October, 7.45pm | Premier Division | Waterford | v | Limerick |
Date: Tuesday 19 December 2017